Embracing the Detour
For our family, "embracing the detour" has meant continuing to seek joy in the midst of great suffering. Findley and I had been married a little over a year when I found out I was pregnant with Virginia. Not my choice for timing, but as my 101 year old great aunt used to say, "Those things happen when you get married." We got over our pre-baby jitters and as my October of 2003 due date grew closer, we couldn't have been more excited.
I have always been a chronic worrier. If you take too long at the grocery store, I assume you have had a wreck. Every mole is precancerous, every plane is doomed to crash. Even I could not have dreamed up what happened to Virginia. I was the only patient on the labor and delivery floor at Baptist Hospital in Montgomery, Alabama. The baby was on a fetal monitor, but our nurse wanted to go home to check on her sick kids. She gave me a huge dose of demerol and phenergan without a doctor's order and I passed out. She went home for three hours, during which time there was no one to monitor Virginia's heart tracings.
My husband was asleep in the chair next to me because it was after 11 p.m. I slept from 1 cm to 8 cm- if you have ever had a baby, that will show you just how much medication the nurse gave me. I woke up in tremendous pain and sent my husband to find our nurse. He couldn't find her, but woke up our obstetrician who was asleep in the doctor's lounge. Upon looking at Virginia's heart strip, he immediately ordered a stat c-section. When she was born, she wasn't breathing and proceeded to have several seizures during the first day of her life, one lasting over three hours.
It turns out that Virginia was in trouble about 11 pm and not born until 3:08 am. If our nurse had been watching, it would have been obvious. It could have been as simple as repositioning me or putting me on oxygen, but she never gave us the chance. Many OBs have looked at Virginia's heart strip, and they all agree she should have been delivered by 11:45 pm and that from that point on, there was nothing reassuring about her heart tracings.
The fact that Virginia's injuries were preventable has been a source of tremendous pain for our family. I spent the first few years of her life longing to go back in time and relive those critical hours. Both my father and father-in-law are physicians and I just never thought this type of negligence could strike my child. Virginia will never sit up, walk, talk, or feed herself. She was robbed of experiencing so much of the beauty that this world has to offer. For the first 3 years of her life, she cried almost without ceasing because she was so miserable. I did not know that pain like that even existed. Findley and I felt like we had fallen into an abyss of darkness.
If I had known what the future would look like when she was born, I would have fallen apart. But day by day the Lord has given us the strength we need. I try not to look too far in the future and I feel like we are finally starting to do more than just survive. It was a shock, but life has a way of creeping back after tragedy- music starts to sound uplifting again, food starts to taste good again, and the sunshine looks beautiful again. For a while, all of the beauty of life was definitely muted.
I have learned that miracles don't always look like what we want. No, Virginia was not physically healed, but if you would have told me how much joy our family would have now in the early years of her life, I wouldn't have believed you. I have slowly watched as the Lord has turned our tremendous sorrow into joy. He has been with us every step of the way.
There are still really hard days when Virginia's suffering is almost more than I can bear. It is impossible to imagine what she goes through on a daily basis, yet she has more joy than any other child I know. She has no cognitive impairments and certainly knows how different she is, but instead of choosing to be bitter, she chooses to be joyful. Our life is certainly not what I imagined. We will always spend most of our time caring for Virginia, but she has embraced her detour with vigor and that is what inspires the rest of us to do the same.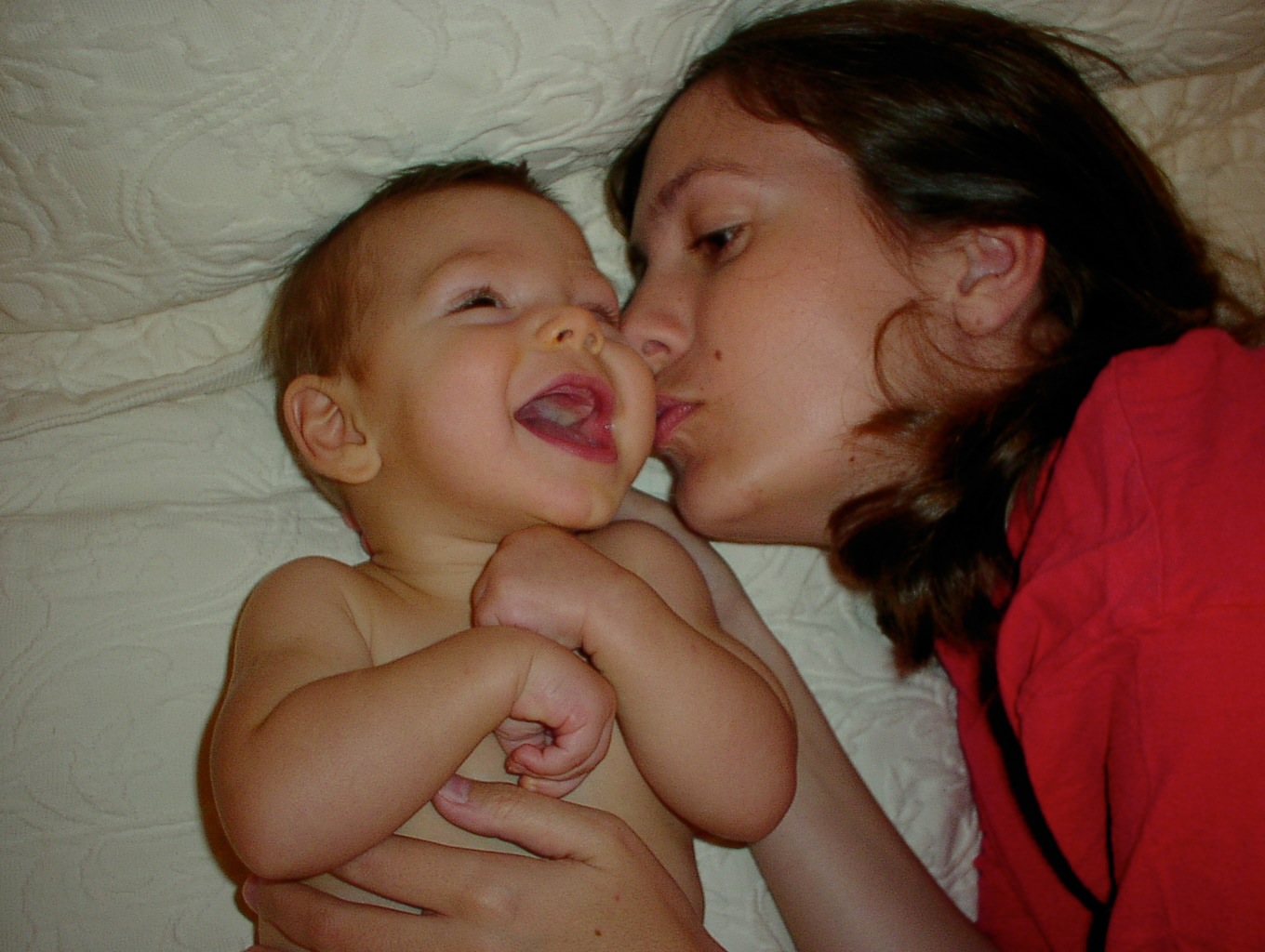 Expectations of Motherhood
When Virginia was in the NICU, I must have asked the same two questions a thousand times. "Will she be able to talk? Will she be able to walk?"
I asked these questions of anyone who would listen as I was absolutely panic-stricken that what she had been through would have an ill-effect on her future. Finally, my father, tired of answering me for the thousandth time, said, "Ab, you can't have any expectations for your children."
"But, Dad," I pleaded. "I don't have extreme expectations for her. I'm not saying she has to go to Harvard or dance the part of Clara in The Nutcracker. I just want her to be able to move and communicate."
"But those are expectations nonetheless," he replied. "We are just going to have to wait and see, but don't worry. I know you. You will be able to meet her wherever she is."
I have thought a lot about Dad's words over the last six years. I absolutely did have expectations for what my child would be like. I had expectations for the level of care she and I would receive during her delivery. I had expectations for what motherhood itself would be like. And all of them were shattered within minutes of the start of Virginia's life.
I know I have unusual circumstances, but I don't know one mother who wouldn't join me in saying that motherhood is not what she expected. I pictured cookie baking and patti-cake playing. I imagined listening in awe as she learned to talk and laughing at all the adorable little questions she would ask me. In those, the frivolous details of motherhood, I can say that it has not lived up to my expectations. But in all the ways that matter, it has far exceeded them.
I love Virginia more than I ever imagined. When she smiles, my whole countenance is lifted. I never dreamed of the bond I would have with her or just how much my heart would be intertwined with hers. Sure, I didn't imagine the heartbreak of watching her suffer either, but it is part of the privilege of being Virginia's mother. It is part of learning to meet my daughter where she is.
The suffering she goes through teaches us to soak up every second of joy and we do.We don't overlook a minute of goodness- I can promise you that. What she goes through also reminds me that life is short. I won't always have these little ones at home. And one day, when I am sleeping through the night and brushing my teeth again on a regular basis, I know I will look back and long for these chaotic days. Sometimes when I am nursing Eliza, I look down at the top of her head and think it's Virginia- that's how fast these last six years have gone.
There are lots of things I dreamed of doing with Virginia that I won't be able to. The sorrow is not in what I lost, but in what has been taken from her. But the most important part of life, the relationships between loved ones (in this case, the bond between mother and daughter) have escaped this tragedy not only unscathed, but amplified.
Anyone who knows me at all can attest to the fact that my favorite thing to do has always been spending time with my family. It is Virginia's favorite thing, too, and the joy her presence adds to our family is immeasurable. We may not be baking cookies or drawing pictures. We may not even be communicating in the traditional sense, but we have a communion. We are together. And for this mother, that is really all that matters.
Nana's Basement
I spent a lot of time at my grandmother's house growing up and my favorite place was always the basement. As a child I would spend hours down there, sifting through all the items she had painstakingly stored. I would always find something I couldn't live without- a board game, a bent hula hoop, an old bike with deflated tires, or a jar of homemade grape jelly.
Nana's accumulation of things never bothered me as a child. The basement seemed like a trove of treasures, not evidence of shattered dreams. For me, the endless racks of my mother's clothes, her books and notes from college and medical school, and her sister Dianne's dolls and toys offered an innocent glimpse into the lives of two individuals I didn't get the chance to know. But for Nana, the memories housed in the basement kept her tightly tethered to the pain of the past.
To put it bluntly, Nana's life ended in October of 1981 when my mother died. She never went back to her nursing career, she quit going to church, and even lost touch with her closest friends. During my visits with her, she would tell the same sad stories over and over again. Of the night she was giving little Dianne a bath and first noticed the hemorrhages on her back and how, as a nurse, she immediately knew that they meant leukemia. Of answering the phone the last day of 1979 to hear my mother tell her she had colon cancer and that it had metastasized to the liver.
In watching Nana, I began to understand that sorrow can leave your soul lifeless. Nana still had many qualities I wished to emulate- she was smart, quick-witted, and empathetic. But her predominant characteristic was sadness and even as a child I knew I wanted no share in her suffering.
Like any good grandmother, Nana was always coming to my rescue. I knew who to call when Dad said that $300 was too much for a prom dress or when I wanted to go on a Christmas break cruise.
I also knew exactly who to call on October 3, 2003, when I was catapulted into a world of suffering that I never knew existed.
October 3 was a Friday, and it was supposed to be the happiest day of my life. My first child, Virginia, was born, but due to gross medical negligence, had been almost entirely without oxygen for the last three hours before an emergency c-section was finally performed.
Every moment of my life from that point forward became soaked with tears of anger, grief, and frustration. Virginia's neurologist described her as "the most irritable baby I've ever seen" and I would have to agree. She cried constantly and almost never slept. As the weeks turned to months, I watched as my baby endured the agony of hundreds of seizures. I slowly came to the realization that her life would look very different than the life I had dreamed for her. She would never conquer those first infant milestones of rolling over or sitting up, much less walking, talking or feeding herself. I felt myself slipping away to a place of complete darkness.
Nana became a source of great strength for me during this time. From that first phone call, I could hear the devastation in her voice, but also a deep love for me and for my new daughter. She wanted to do whatever she could to help, and arrived in 'hot, humid, miserable' (her words, not mine) Alabama the day we brought Virginia home from the hospital.
Nana knew all too well what it was like to watch your child suffer, and she knew, quite simply, that I needed to grieve. She didn't try to tell me that things would necessarily get easier. She didn't quote scripture about the difficulties of this life. She cried with me, she let me see how heartbroken she was, and, most of all, she loved me.
Nana stayed about two months on that first visit and was an invaluable addition to our family. She rocked Virginia at night so that my husband and I could get some sleep, and during the day she did the laundry, cooked most of our meals, and accompanied me to all Virginia's medical appointments.
Over the course of those two months, I began to notice a light in Nana that had been absent for my entire life. She laughed more. I didn't hear the old, sad stories as much, but instead found myself listening to her talk about how beautiful the baby was or about how much she looked like my mother.
It is difficult for any older person to leave their home and their routine, but for Nana, leaving her East Tennessee mountains to help me was even harder because she was leaving behind her memories. Her home had essentially become a place of mourning, where she tried to stop time and hold on to the daughters she had lost. And who can blame her? She was afraid that by abandoning her grief she would be dishonoring their memories.
But when I needed her most, Nana came, and she loved me by starting to live again.
I learned when Virginia was born that our human inclination when faced with great pain is to turn inward. I wanted life to stop and I wanted everyone to leave me alone. For those first three years of Virginia's life, I did exactly what Nana had done for most of hers. I let my grief control me. It didn't matter if I was taking a shower or fixing dinner, my mind was replaying the events of Virginia's delivery and imaging a different outcome.
But in witnessing Nana as she began to embrace life again, I slowly realized that love makes it possible to overcome even the greatest sorrow.
We lost Nana in May of this year at 93 years of age. Since Virginia's birth seven years ago, Nana spent a total of more than a year with my family. She held and rocked all three of my babies for longer than I did and her laughter and wisdom helped me endure many long days.
The task of cleaning out Nana's basement was not one that I eagerly anticipated, but as I sat last summer in the midst of old quilts and yellowed newspaper clippings, I realized that the process was becoming cathartic for me. I didn't have a basement full of physical reminders of my pain that I needed to give away, but suddenly, my anger and grief felt too burdensome to continue to carry all the time. Truly loving Virginia meant embracing every day as her mother with joy and expectation, and, like Nana, learning to leave my baggage in the basement.

Night's Grip
I don't do well at night. I never have. Any perspective or rationality I have seem to set with the sun. Fear rises up from deep within me and reigns until the sun's rays banish it at dawn.
I have been this way for as long as I can remember. My parents warned Findley early on never to discuss anything emotional with me at night because I couldn't handle it. I am pretty sure he would say this is the best advice anyone ever gave him.
My nighttime fears cause me to long for the familiarity of home because at least home offers some illusion of security. I was in sixth grade before I ever spent the night out. Up until that point, the same scenario would play out most Friday nights. I would decide I wanted to spend the night at my friend Ashley's house and I would happily pack my bag and head over. But I never made it past nine o'clock. I was so predictable that one night when I went downstairs to ask Ashley's mom to call my parents to come get me, Dad was already there. He was sitting at the kitchen table with Ashley's father, having a beer and waiting for me to appear. He knew me better than I knew myself.
I am sure this fear stemmed from losing my mother at an early age. I never would have been able to articulate that at the time, and it is still strange to me to admit that a tragedy I don't remember clearly has impacted me to such a degree. But it has. I have always been aware that life is short. That tremendous pain is hiding just around the corner. That my perfect little world could be shattered in an instant.
Virginia was born very early on a Friday morning. I went home the following Tuesday, but she obviously wasn't ready to come with me. I cried myself to sleep that night because I knew my haven was gone. I no longer had a place where I could pretend to be safe from the pain of this world because my fears had been realized. The impermanence of my happy existence had been exposed and I knew it.
I do a decent job of holding it together during the daylight in spite of my fears, but when night comes, I am fighting a real battle. Unfortunately, night is also the hardest time for Virginia. Like mother, like daughter. When she is screaming, it feels like the pain will last forever and that the two of us will be swallowed up by sorrow. I forget so easily that daybreak will bring relief, that she and I will both regain our strength to continue this fight when the darkness is banished. The sun will rise in the morning. It always does.
We are in the middle of a rough patch with Virginia and we are facing some big decisions. It feels like we have been in this place for a long time, but I am clinging to the lessons I have learned in the night. That dawn will always break. That hard times don't last forever. That we have not been abandoned in the darkness before and this time won't be any different.
One of the most unexpected consequences of the events of Virginia's birth is that I don't live in fear anymore. (Well, not nearly as much as I used to anyway.) You would think that now I would be more afraid because I know what's out there, but instead I have realized that in spite of true devastation, I am ok. I still have joy and it is even greater than I ever imagined. I have just had to look for somewhere more permanent to store my treasures.
"And the light shines in the darkness and the darkness will not overcome it." John 1:5
Somewhere in the Middle
Finding the middle ground has always been a hard thing for me. If I let myself eat two oreos, I am likely to finish the whole sleeve in short order. If I start cleaning out dresser drawers, the entire house will be spic-n-span in a matter of hours. I tend to be either overcome with gratitude for the love in our family or absolutely grief-stricken at what Virginia endures. (I guess if you've been reading my blog for a while this isn't news to you.) Slowly I am beginning to live in the tension between these two extreme emotions.
Last night is a perfect example. Our downstairs air conditioner was broken, so we were all going to sleep upstairs. Wills was thrilled that Virginia was going to sleep in his room. I had taken the mattress off his spare twin bed and put it on the floor for Virginia so that if she fell off, she wouldn't have far to go. Wills was having fun jumping from his bed to the mattress on the floor, over and over again. Eliza was sitting on the mattress and she could not stop squealing at his antics.
In the meantime, Virginia was having a total come apart. It had started with whining and by bedtime, she was all out screaming. Findley was home from work, but try as we might, neither one of us could comfort her. She was tired; she had been up since 3 a.m., but I never really know why she screams. The last few times she has gotten this upset, she has thrown up, so we took her in the bathroom in the hope that another rug wouldn't be ruined.
So, there you have the two parallel universes of the Frazer house. Findley was sitting on the edge of the bathtub holding Virginia, gently rocking her, desperate for her to quit screaming. I sat on the floor holding her jaw so that it wouldn't get stuck as she screamed. Every now and then, I would peer around the corner to check on the little two and I just had to smile. Wills was having a great time jumping from the bed to the mattress and Eliza couldn't have been happier watching him.
I am called to find joy in the midst of suffering and to create a balance between the two. Somehow I have to share in Wills' and Eliza's joy as they play even though a part of me is weeping because I want Virginia to be included. I want her to be excited about a slumber party when instead she is struggling to live.
These situations present themselves all the time. Virginia lasts about twenty minutes on the beach because it is just too hard on her body. She ends up in the house watching a movie while Wills builds castles and looks for shells. It's not fair, but there is no way around it. Wills and Eliza shouldn't have to miss out because of Virginia, but it hurts when our family isn't whole.
My all or nothing personality makes it very difficult to strike an emotional balance, but I must do it because the health of my marriage and the happiness of my children depend on it. The middle ground is the honest place to be because there I am dealing with both the sorrow of the fall and the joy of the redemption. To leave out either one would be to miss an essential variable in the equation.
When Virginia is screaming, I want to bury my head in the sand and pretend I don't hear it, but that's not a choice. It would not be tenderhearted toward Virginia or respectful of my own broken heart to stick in earplugs and skip down the hall and ask Findley what he wants for dinner. Nor can I get in bed and start crying and never get up again. That's not a choice either.
So there I find myself, struggling to live life in the middle. At times experiencing pure joy, yet at other times allowing the sorrow to find a place to stay for a while. I used to think that eventually the pain of what happened to Virginia would go away. That if I prayed enough and sought enough wise counsel on how to best handle things, one day my heart wouldn't break with the crying. But sometimes it still does and I have realized that is ok.
To be fully engaged in this world means that we all experience both deep hurt and incredible joy every day. We must strive to live in the tension between the two instead of barricade ourselves in one direction or the other.
A very wise friend introduced me to this verse yesterday and I love it:
"I am sorrowful, yet always rejoicing." 2 Corinthians 6:10 (NIV)
and I also really like the New Living Translation:
"Our hearts ache, but we always have joy." 2 Corinithians 6:10
Lessons from Virginia
I remember a page from our premarital counseling workbook that asked me to rank a list of potential hardships according to which one would impact me most were it to materialize.
I can't recall what topped my list, but I can tell you what fell in last place: Having a child with special needs.
It's ironic to me that I only remember that one exercise from all of our premarital counseling, and I have to laugh at the naivete of my answer. But even if I'd known I'd have a daughter with cerebral palsy, there's no way I could have prepared myself for the intense suffering that lay ahead.
Virginia was born in October of 2003, and due to gross medical negligence, she has severe cerebral palsy. I cannot put into words the pain of those first few years. Virginia's suffering was extreme, and she cried almost constantly. Nothing about motherhood was even close to what I'd imagined. My heart broke daily as I watched her struggle.
I thought our family would never have another happy moment.
But I was wrong.
Over the past few years, the pain and shock have begun to lessen, and our family has started to smile again. Obviously, I'd take away all of Virginia's suffering if I could, but I'm finally in a place where I can acknowledge some of the blessings that have come from our tragedy.
For starters, Virginia's life has taught me a lot about the profound relationship between suffering and joy. It takes time, but joy always rises from the ashes of suffering. The hard things I've been through allow me to experience joy on a much deeper level – and to appreciate moments I might otherwise have taken for granted.
Virginia's injuries are somewhat isolating, so we tend to spend a lot of time together as a family. Nothing lifts my spirits more than witnessing the bond between my children and realizing that Wills and Eliza love to hear Virginia laugh just as much as Findley and I do.
Virginia's suffering has also changed my perspective on life. I don't sweat the small stuff anymore. It doesn't matter to me if Wills makes the varsity basketball team or if Eliza is a National Merit Finalist. What does matter to me is that they become individuals with a heart for those who suffer. I'm already beginning to see the seeds of compassion in their young lives.
Virginia embraces life with a vigor that's taught me firsthand how to seize each moment. For a long time, I was frozen in my sorrow, too overwhelmed by what lay ahead to celebrate today. But I've learned that life isn't ever going to be exactly like I want it, and if I wait for things to be perfect, I might miss a chance to make her smile.
Virginia needs me to infuse as much joy and laughter into her day as I possibly can. We eat a lot of ice cream at our house, and we never miss an opportunity for a dance party.
Having a child with special needs is an invitation to a slower paced life. I've tried to embrace that invitation. Yes, I sometimes mourn the fact that we can't eat Chick-fil-A in the back of the car in route to ballet lessons, but when I'm honest with myself, I realize I've been given the chance to spend time with my children and build strong relationships within our family. There are lots of activities we have to pass up, but the result is a unity I wouldn't trade for anything.
The physical and emotional support that I need to take care of Virginia is humbling. I feel lucky to live in a place that really feels like a village at times. Our first Christmas here, we went to see Santa Claus ride into the village on a fire truck. The entire hour we were there, we didn't see one person whom we knew. When we got home, I realized Virginia had lost one of her new gloves. Oh, well, I thought, I'll never see that again.
When I went to get the mail the next day. there was her tiny pink glove. I still don't know who returned it – or how they knew it was Virginia's- but it seemed magical to me. That gesture made me feel like people could tell we had our hands full, and they were doing what they could to lighten the load. I felt very welcome.
I often come home to homemade bread on my doorstep or a note of encouragement in my mailbox. Tammy at Gilchrist knows to make Virginia's milkshake a little on the thin side. Mr. Joe at the Western always offers to push my grocery cart so I can maneuver her wheelchair.
Having children, especially ones with special needs, reminds us all that we really do live in community. We need to push ourselves to get to know our neighbors and encourage those who bear extra burdens. Virginia is a tremendous blessing not only in our lives, but in the lives of all of the people in our community who have come to know and love her.
When I think back to the workbook page from our premarital counseling, I realize that not only would it have been impossible to wrap my mind around the heartbreak of having a child with special needs, it also would have been impossible to get even a glimpse of the joy and love Virginia brings to my life.
Windows into Eternity
There is a certain feeling I get that can only be described as timeless joy, bubbling up from somewhere deep inside of me. It has a twinge of nostalgia mixed in, and is accompanied by an overwhelming sense of security.
As a child, I can remember the feeling often came when my whole family was assembled at my grandparents' house, playing cork ball in the front yard and just enjoying being together. We would laugh as my grandfather "got his mojo working" and pitched a strike, and cheer when Nana finally emerged from the kitchen to take her turn at bat.
I can remember specifically feeling that way one snowy Saturday when I was in eighth grade. I had on my favorite Ole Miss sweatshirt, my first pair of GAP jeans, and some huge, gray wool socks I had stolen from my Dad. I had nowhere to go and nothing to do. It was a day to be with my family and through my fourteen-year-old eyes, it looked like all was right with the world.
Findley and I used to drive around Nashville on Sunday afternoons when we were in college. We would get on the Natchez Trace Parkway and just drive. We weren't in a hurry and we certainly didn't have a destination. We were in love and it was enough just to be together. Driving along, holding Findley's hand and looking at rolling green farm land, the sense of timelessness would hit me. This is it, I would think. I don't want this moment to pass.
The sense of nostalgia that is mixed in with my happiest moments comes from the fact that part of me acknowledges they are fleeting. In my grandparents' yard, I was aware that we wouldn't be kids forever. That 671 East Drive wouldn't always be the center of my universe. That one day in the not-so-distant future, I would have to grow up. Driving around the countryside south of Nashville, I knew Findley and I were enjoying stolen moments. That one day soon we would have to face new responsibilities and obligations.
In these perfect moments, I wish I had a freeze button for my life. In that split second when the feeling washes over me, I want to hit 'pause' and bask in it forever.
Even as a child, I realized there was an eternal component to these moments. What I was able to be a part of was too precious to be a fleeting afternoon, lived out, but then lost forever. I think God gives us glimpses, teeny-tiny glimpses of course, but true glimpses of the joy we will experience in heaven. Our soul knows that the joy and security we feel in special moments with loved ones are gifts from God, and are too extraordinary to be temporary.
After Virginia was born, I was afraid I would never know that feeling of true contentment again. That the feeling of looking at shooting stars with my cousin on the deck of our beach house or that of watching a storm roll in on my parents' back porch would be tainted by the sorrow that had invaded my life.
My fears (as usual) were unfounded. Often when Findley and I are making the rounds at night to check on our three sleeping angels before we head to bed, that feeling washes over me and causes my heart to overflow with gratitude and joy. Sometimes it sneaks up on me, like last week when all five of us were on a walk on the trail. I was pushing Virginia, Findley was pushing Eliza, and Wills was running along next to us. I tried to take a picture in my mind because when they are grown, I know I will return to it often.
I sense that Virginia feels these moments of timeless joy, too. Yesterday we were on a walk and she was in her baby jogger. The trail was quiet and cool and we were just enjoying being together. She tilted her head back, looked me in the eyes, and smiled her most radiant smile.
"I know," I said. "I love you, too."
In those moments I get great clarity. I don't see Virginia's disability. I don't think about the messy house I left behind or the two fussy little ones I will return to. I feel a tremendous connection with my first born, a deep love which has no limits. I feel a true communion with the Almighty and get a glimpse of what is to come.
When I look at the times in my life when I have had that sense of nostalgia, joy and security all packed into one incredible instant, they were never times of great personal success. They were moments shared with a loved one or times when the natural beauty of the world gave me a glimpse of God's glory. I would have felt those moments just the same even if I had been in a wheelchair. I was never good at cork ball anyway. What I loved was the security of being surrounded by my family, and Virginia has that, too.
My hope is that Virginia will recognize these moments of timeless joy for what they are- windows into eternity. And that she will cling to the promise that it is pain and suffering that are fleeting. The joy and love she feels will remain forever.
********************************************************************************************************
Note: The best book on suffering I have read is Joni Eareckson Tada's When God Weeps. It is incredible. Joni talks about this same thing, but says it far more lyrically than I do.
"The delight I experience with my husband Ken is merely a hint, a whisper- a bite of chocolate- compared to the resounding joy that, in heaven, will sweep me away in a deluge of ecstasy… Every good pleasure on earth is but a shadow of its fulfillment in heaven." (p. 206-207)
"Heaven will not only be more than we can imagine, the "more" will go on forever. It will be timeless. It has to be; joy flows from God, God is eternal; therefore, so is joy. You instinctively know this when you are gripped by a timeless moment, an experience so precious, so perfect you wish it would last forever… Moments like these remind us of some other time or place… It's a yearning to pass through and reach the other side, as C.S. Lewis said. These moments- whether having tea on a spring afternoon or licking Popsicles and feeling safe- are whispering, 'One day you will bathe in peace like this… satisfaction will shower you… this joy will last forever.' This is what we as children feel. It's another hint of heaven, like choosing the happiest point in your life and having time stand still." (p. 208-209)
How We See Her
My dad's oldest brother, Jack, died on January 29th after a three month battle with cancer. I, along with two of my first cousins, had the privilege of driving my grandfather from the memorial service to the graveside because his knees kept him from being able to climb into the car in which my grandmother and their other three sons were riding.
There is one thing Poppy said during that car ride that I will never forget. He said that it felt just like yesterday when he was tucking his four boys into bed and kissing them all on the head.
I realize that I am 33 (gasp!) and not 89, but I understand how he feels. I cannot believe how quickly life is moving along, particularly that Virginia is already 8 years old.
***************************************************************************
Findley and I were talking in the car on the way to Memphis for Easter about how we see Virginia differently than most other people see her.
People are always saying things to me like, "Oh, but she's so happy" or "I am so glad you are her parents."
Well, yes, she is usually pretty happy, and I am certainly grateful for that, but my other two children are happy also. And I am glad we are her parents, too, but we would have been her parents even if she had been spared such a devastating brain injury.
Please don't think I am offended by either of those comments, but Findley and I realized that they illustrate the gap between how we see Virginia and how everyone else sees her.
I think it is very easy to see our family walking down the street, with Wills and Eliza making Virginia laugh by hanging off either side of her wheelchair, and smile. Yes, sometimes it brings tears to my eyes that she is here and clearly very well loved by those of us around her. (And she loves us well, too, by the way.) But there are other times when Findley and I look at her and see what was taken.
See, we knew her before she was injured. Or, maybe I should say that we dreamed of her before she was injured. Most of you have never known her any other way, but we have, and sometimes it is hard to look at her and not acknowledge great loss.
We have 2nd Grade Girls' Bible Club at our house on Friday afternoons. I do nothing except open my front door. Other mothers do all the teaching. It's a pretty good deal, actually. Sometimes Virginia makes it through the entire lesson, most times she doesn't. It is hard to watch her peers sing praise songs, ask questions, make prayer requests, and recite their memory verses. It is hard to watch them run around my front yard afterward, and break off into little groups for Friday night slumber parties. I would be lying if I said I no longer mourned what was taken from Virginia.
Sometimes Findley and I look at Virginia and see the healthy little girl that should have been. The thriving second grader without a care in the world. We wonder if her voice would have sounded like Eliza's or if she would have been artistic like Wills. We wonder if she would have been calm like her daddy or high-strung like me. What would she tell us everyday when she bounded in the front door from school?
I am aware that we have to be careful. We can't let remembering what was lost keep us from embracing what is here. There are a million things that we love about Virginia, and in some ways, she and I are closer than we otherwise would have been. I am her arms, her legs, and her voice, and she is my heart. But how I wish that she had been spared all this suffering and not robbed of her autonomy!
*******************************************************************
I know that as a mother I hang onto some of the best moments and hope I can still remember them when I am in the nursing home. Our minds have a way of clinging to the beauty of life, the glimpses of eternity, so to speak.
That's why Poppy remembers the 66 year old man he lovingly called #1 son* as a blond little boy waiting up for a story at bedtime. It is life in its simplest form, our children in their purest moments.
Findley and I will always remember the Virginia that we had dreamed of, a Virginia without limitations, a Virginia untouched by the suffering of this world.
Thankfully there is Someone else who sees her this way, too, and it gives us great peace to know that one day His glorious vision for her, and for all of us, will come to fruition.
Perspective
Findley and I were some of the first parents to arrive at Virginia's kindergarten musical last fall. We wanted to get a good seat so that she would be able to see us from the stage. As we waited for the play to begin, I realized I was really nervous. I had a tremendous pit in my stomach. All the other parents around us seemed awash in excitement- cameras poised to capture their child's big day. But not me. Honestly, I could think of a million places I would rather have been.
All the other children filed in from the left and Virginia's aid pushed her in from the right. In the picture at the top, you can only see about one-fifth of the children. As I sat there and watched seventy five (seemingly) healthy children fill the bleachers, my heart hurt. Why had Virginia been singled out for so much pain? She was the only one who couldn't sing, couldn't dance, and couldn't even wear the hat her peers wore because her headrest kept knocking it off.
Watching that performance was very difficult for me. Are people staring at her, I wondered? Do they realize how smart she is? That she is so much more than a smiling face in a wheelchair?
After the performance was over, the children remained on the stage so that overeager parents (my husband included) had plenty of opportunity to snap the perfect picture. One of the hardest things about Virginia's dystonia is that the harder she tries, the harder it is for her body to do what she wants. So every time a mother said, "Virginia, look this way" or "Smile, Virginia" or "VIRGINIA, can you look over here?" I just wanted to crawl in a hole. Because when she is excited and trying to look a certain direction and smile, she can't. Her body arches back and she is forced to look over her right shoulder.
In moments like that I want to explain to all the parents that she does hear them. She certainly understands that they need her to look straight ahead for the picture. But she is unable to. I want to say, Just take the picture and move on, ok? But I don't say anything because it's not the place. Big crowds of her peers are overwhelming to me because her disability leaps out from the crowd and people stare. People are curious. People make the wrong assumptions.
I learned something about my own heart that day. As we walked home after the performance, I was fighting back tears. "It's just so hard, honey, " I said to Findley. "I feel like we are taking a square peg and trying to force it into a round hole. It hurts so badly to see her up there."
He paused a minute, as if to prepare me for the bullet he was about to fire my way. "Did you just see the same musical I did?" he asked me. "Did you see the smile on her face? Honey, she's choosing joy. You better get on board."
He was right. Virginia had a great time being a part of that show. She felt proud of her own contribution and proud of her classmates for their special roles. She smiled and laughed almost the whole time. I realized that on that day, in that moment, I was the one having a hard time. I was the one embarrassed by her disability. I was the one who wanted my child to look like everyone else's.
I was looking at things with my worldly glasses, the ones in which I long to fit in, not stand out. To be comforted, not challenged. Yes, obviously anytime I have a new realization of what was taken from Virginia, it is painful. But sometimes I need to do a better job of shifting my perspective and looking at all that she has rather than all that is lost. I know I am a little biased, but Virginia contributed more to that performance with her joyful presence than she would have if she had sung the lead solo. And I was so caught up in how I want things to be, I almost missed the blessing of how they actually are.
"Now we see but a poor reflection as in a mirror; but then we shall see face to face." 1 Corinthians 13:12
Imperfections
I always write about 'embracing suffering', but it is obviously something we have to learn how to do. I will admit that often I don't know exactly what it looks like.
I had a rare (especially lately) moment of clarity over Thanksgiving weekend that I wanted to share.
I haven't written much about my childhood, but I will briefly say that it was pretty special. My dad is one of four boys, his mother is one of four girls, and we always had a house full of aunts, uncles, cousins, second cousins… no one ventured too far from the family compound. If I wasn't at my house, I was 'up the hill and around the corner' at my grandparents, either working a puzzle in the kitchen with Nana or doing physics experiments in the shop with Poppy.
I wasn't naive enough to think that life was perfect for our clan (don't worry, family- I am not about to throw out any skeletons!), but I certainly thought that the beauty around me was in the perfection. That 'wonderful' was an appropriate adjective for our lives only because everyone was healthy, happy and successful.
Until recently, I still felt that way.
When I looked at my own life, what jumped out at me was Virginia and her suffering. It was the piece of the puzzle that didn't fit, at least not as seamlessly as the other pieces. It was where my life changed course, got off track. To put it bluntly, it was the part of my life that couldn't be summed up with the adjective 'wonderful.' (and obviously I am talking about what happened to Virginia, not Virginia herself.)
As we all gathered at my parents' house this Thanksgiving, there was more visible suffering than there has been in the past. I now know more physics equations than Poppy does, and we had to make room for three wheelchairs around the table. As Dad asked the blessing, he prayed especially 'for all those who are suffering.' Foremost in all of our minds was my uncle who is in the midst of radiation treatment for cancer, but when I looked around the room of at least thirty people, I realized that Dad's description included each of us. Every single person in attendance was dealing with their own shattered dreams.
Suffering isn't the unexpected detour I used to think it was. It is woven throughout this entire journey.
And, quite miraculously, suffering is what makes this journey so beautiful.
I realized last Thursday that it is wrong for me to put the events of my life into two categories- before Virginia was hurt and after Virginia was hurt. The true delineations of joy and suffering are much more complex.
Obviously I would erase what happened to Virginia if I could, but 'embracing suffering' means beginning to see it as an integral part of the larger picture. Pain is not a brief interloper, coming in moments of tragedy to steal the beauty from life. If you open your eyes, suffering actually magnifies life's beauty in a way nothing else can.
Our Thanksgiving table wasn't beautiful because our family is perfect. It was beautiful because our family is imperfect.